Discover more from Save Oregon Schools
Independent research & news on Oregon public education
Unveiling Oregon Department of Education's Controversial Methods: A Deep Dive into Research Flaws and Lack of Oversight
Over the past eight weeks, I have been working with Dr. Bruce Gilley, President of the Oregon Association of Scholars, on a big project. Today we are releasing the results of this work to the public, and I believe this will help shine a light on the source of the problems plaguing Oregon's public education system.
What we did was straightforward - a "fact check" of the Oregon Department of Education's (ODE) "Community-Informed Recommendations for Equitable Graduation Outcomes" report, delivered to the Oregon legislature on September 1st, 2022. This report was created in response to Senate Bill 744, which was signed into law in 2021. You may remember this bill as the one that extended Governor Kate Brown's pause of the Essential Skills Proficiency tests that were required to graduate high-school.
As we reviewed ODE's report and the roughly 100 research studies and other citations included within it, we continually found ODE misrepresenting evidence and making unsubstantiated claims. In other words, they lied. They lied to all of us.
Here are links to download our full, 27-page report as well as a short, 2-page summary. I recommend starting with the summary and then moving on to the full report when you're ready for the deep-dive: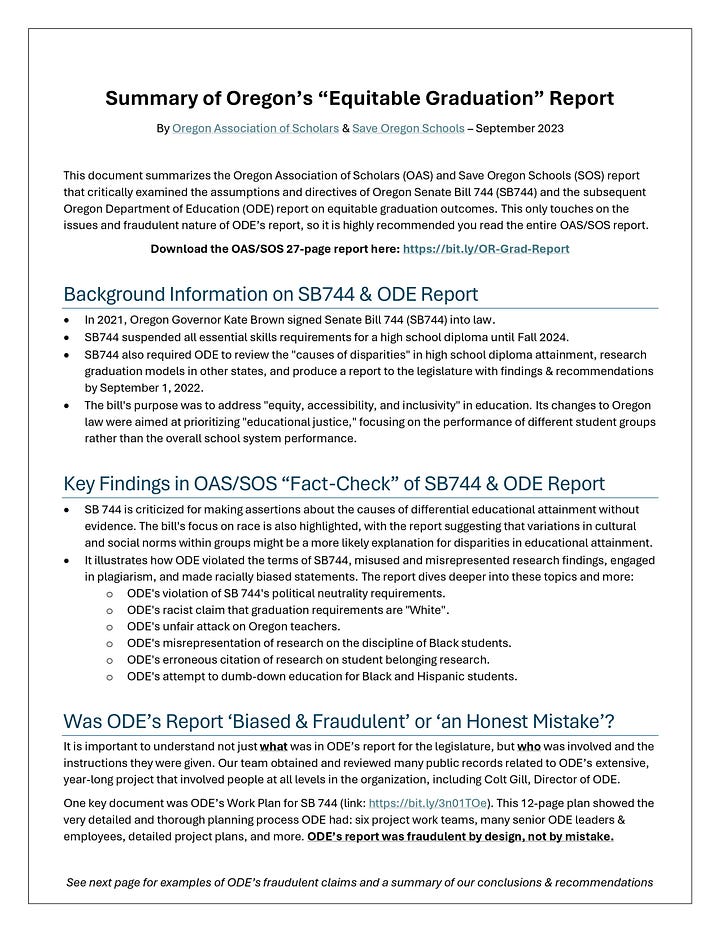 Why is this significant?
ODE's report has already been the source of new legislation during the session that just wrapped up a couple of months ago. Some bills went on to be signed into law, while others didn't make it across the finish line. ODE's report will continue to be used to shape legislation and transform education for years to come. This fraudulent report should be retracted immediately, but how do we address bills that have now become law? Should the legislature have to repeal these bills as they are all based on fraudulent research and recommendations?
What is even more pressing is an upcoming vote by the Oregon State Board of Education. Their next meeting is this Thursday, and on their agenda here is a planned vote to further extend the suspension of Essential Skills requirements through the 2027-2028 school year. You can find the contact information for the State Board Members here, and this page provides details on how to submit a public comment.
I can also assure you this is not the only fraudulent report that ODE has produced. Over the next few days and weeks, I will be releasing information on other significant reports and plans ODE has published that are equally biased, inaccurate, and destined for the trash bin. This is a clear pattern of deception at a grand scale that has somehow evaded exposure, until now. Oregonians need to come together to demand the truth and to hold people accountable for the harm they've caused us all.
Making our legislators aware of the issues
If you want to contact your representatives in Oregon's legislature but aren't sure who they are or how to reach them, you can use this page to search by your address. You can also view the full list of State Senators and State Representatives, both of which have all of their contact information.
Below is the message I sent to every Oregon State Senator & Representative on the morning of Tuesday, September 19th 2023:
---
[Sent to all Oregon State Senators & Representatives]
Good morning to you all,
On behalf of Dr. Bruce Gilley (President, Oregon Association of Scholars) and myself (Chief Editor, Save Oregon Schools), we wanted to share a joint report, released today, that highlights major concerns and inaccuracies in the Oregon Department of Education report on equitable graduation outcomes (per SB744-2021).
Here are three of the key findings in our report:
·         Research Methodology Concerns: The report points out instances of potential plagiarism and miscitations in ODE's work. It emphasizes ODE's lack of practicing even basic, high-school writing skills, such as using reputable sources and proofreading.
·         Significant, Unsupported Claims: Some of ODE's most significant claims were without evidence or ODE misrepresented research to appear supportive. For example, there were many claims that a student's sense of belonging was a significant, important factor for improving graduation rates and academic achievement, but the cited research made no such claims.
·         Unfair Attack on Oregon Teachers: SB 744 questions the equity of high school diploma requirements, prompting the Oregon Department of Education (ODE) to investigate. Instead of an objective analysis, ODE leans heavily on claims of systemic racism and bias without substantial evidence. ODE even insinuates that teacher biases might influence grading, a claim that lacks concrete support and paints Oregon educators in a negative light.
Attached are copies of our full, 27-page report as well as a 2-page summary. Here are links to these two reports, as well as the ODE report we evaluated:
There are clear similarities between the opioid crisis and this fraudulent report from ODE. For years, doctors prescribed drugs like OxyContin, thinking they were safe. Yet, opioid-related deaths rose from under 10,000 to over 80,000 annually since 1999 and opioid addiction is harming countless more. This crisis, rooted in misinformation, mirrors ODE's role in Oregon's education issues. Our joint report reveals ODE's misrepresentation of research, biased narratives, and unsubstantiated claims. Both situations highlight the devastating impact of false information.
Let me be real for a moment. I'm exhausted. I think we can all agree that every child in Oregon deserves a good education. However, how to improve our education system has become a partisan battleground. The "right" thinks the "left" is the problem. The "left" thinks the "right" is the problem. Well folks, I think we've all been played for fools. That needs to end now.
I urge you to come together as Oregonians on behalf of Oregonians. You deserve to know the truth as do all of us, and that means you need to work together to do a thorough investigation of this and other reports by ODE. Who is behind the fraud, what are they trying to accomplish, why are they doing this, and when did it start?
It's urgent to act now. The Oregon State Board of Education meets on September 21st to vote on extending the suspension of the Assessment of Essential Skills through 2027-2028, a move pushed by ODE based on their fraudulent report. This decision could have divisive consequences for our communities, and there's no proof it benefits Oregon students.
Please hold those responsible for this deception accountable. Over the past decade, our education system has suffered a significant erosion of trust. A pivotal step towards rebuilding that trust is to pinpoint and address the origins of this fraud, ensuring utmost transparency throughout the process.
On behalf of Dr. Gilley and myself, we thank you for your time and attention to this matter. We would both be happy to meet and discuss this further.
Jeff Myers
Chief Editor, Save Oregon Schools
Dr. Bruce Gilley
President, Oregon Association of Scholars
Thanks for reading Save Oregon Schools! Subscribe for free to receive new posts and support my work.